18 September, Sunday, 3pm:
Beyond the Pale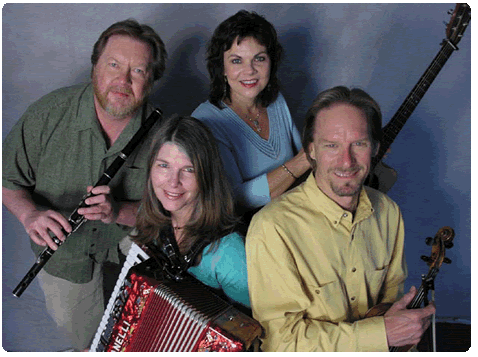 This Dallas ensemble plays a diverse mix of traditional Celtic, Americana, and contemporary styles of music, having developed its unique sound by blending original songs and compositions with an array of traditional dance tunes and folk songs of Ireland, America, Scotland and Europe using a wide range of instruments and voice. They have been featured at some of the largest music festivals in the USA and have performed on National Public Radio.
9 October, Sunday, 3pm:
The motto of this chamber ensemble is "Serious Music—Serious Fun!" Acclaimed performers Ruth Ann Ritchie, flute; Eric Jones, viola; and Michael Jones, bassoon, have taken their music throughout North Texas, performing and teaching about classical music wherever they go.
6 November, Sunday, 5pm
Evensong for All Saints
Join St John's choir for this meditative Anglican service of reading and singing, commemorating All Saints. The choir will perform music of Hancock, Schalk, and Ireland.
13 November, Sunday, 3pm
Organ Celebration Recital
Organists Benjamin Kolodziej and Katie Jarrett will perform a festive concert anticipating the 20th anniversary of St John's Aeolian-Skinner/Reuter pipe organ, which was installed in 2003. A reception in the parish hall follows.
11 December, Sunday, 5pm
Lessons and Carols
 
This traditional service of Scripture readings and music involves the whole community in proclaiming Christ's birth. The St John's choirs and instrumentalists lead music of Advent and Christmas featuring music of Ellis, Near, Pearsall, and Bach. A festive reception in the parish hall follows.
8 January, 2023, Sunday, 5pm
Epiphany Evensong

This traditional choral service concludes the Christmas season, ushering in Epiphany. The choir and instrumentalists sing music of Shaw, Byrd, and from Bach's Epiphany cantata, "Meinen Jesum Lass Ich Nicht."
15 January, Sunday, 6pm
Silent Movie: Harold Lloyd's The Kid Brother (1927)
Reliving yesteryear, organist Benjamin Kolodziej accompanies Harold Lloyd's classic film in an authentic, 1920s musical style. This comedic silent picture follows a younger brother as he attempts to win the respect of his family, all while trying to run a farm, complete with various amusing animals! Popcorn and soft drinks will be served at this family-friendly event, which will take place in the parish hall.
5 March, Sunday, 3pm
Sarah Poe, Viola
Sarah Poe holds performance degrees from Eastman School of Music and the Cleveland Institute of Music, and has served as a member of the viola section of the Erie Philharmonic, as principal violist of the Aspen Opera Theater Orchestra, and as violist at the Franco-American Vocal Academy in Perigueux, France. Sarah plays on award-winning luthier Isabelle Wilbaux's "Siddharta" viola and teaches in Rockwall, Plano, and at the Hockaday School in Dallas.
30 April, Sunday, 3pm
Concert Bells of Fort Worth
Concert Bells of Fort Worth is a community handbell ensemble dedicated to musical excellence through artistic handbell performance. The group performs a diverse repertoire, from classical transcriptions to innovative original works, with precision and musical sensitivity. They have premiered works, performed for hymn festivals and concerts, and have released two recordings, Let All the Earth Rejoice and Ring and Radiance. Stephanie Rhoades has been their artistic director and conductor since 2003.
28 May, Sunday, 5pm
Pentecost Evensong
St John's concludes the church year with a festive evensong for Pentecost, featuring music of Harwood, Beck, and Byrd, featuring the Cantate Deo choir.